New features, changes and fixes
2023-12-10 - Version 4.2
New maps
With this update we have to say goodbye to our own AdventureLog map style and switch to a commercial provider. This step is unfortunately necessary to reduce costs - running our own map server is unfortunately too expensive.
We hope you like the new map style!
Map printing
A new feature is that maps can now be printed with all maps offered, including Swisstopo maps and satellite maps.
Many other updates and maintenance upgrades have also been incorporated. If you notice a problem: get in touch with us!
---
2023-03-11 - Version 4.1
more updates
There are more technical updates, which may change some small things in the user interface - but this should not cause any problems. If it does: Contact us!
---
2023-01-27 - Version 4.0
The fourth year
AdventureLog.io enters its fourth year of life in April. After a long period without further development, we have now brought the technical basis back up to date. Unfortunately, this does not bring any new features for the time being, but it creates a stable basis for further development. Stay tuned!
---
2021-09-19 - Version 3.8
Tour timeline merged with elevation profile
We have now integrated the tour timeline, which previously slided out via an icon on the left, into the elevation profile. Small red dots visualize places, summits and breaks.
If you click on the points, the map zooms to the corresponding position.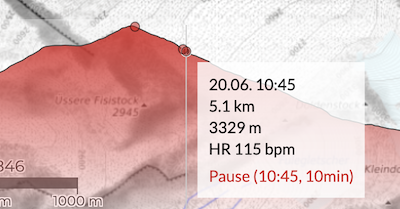 Progress bar when importing GPS data
When importing a tour, progress info is now shown to inform you what is happening. This is especially helpful for longer tracks, because the system then needs a bit longer until it has recognized all locations.
Mountain names in 3D map
On the 3D map you will now see small labels with the names of all mountains.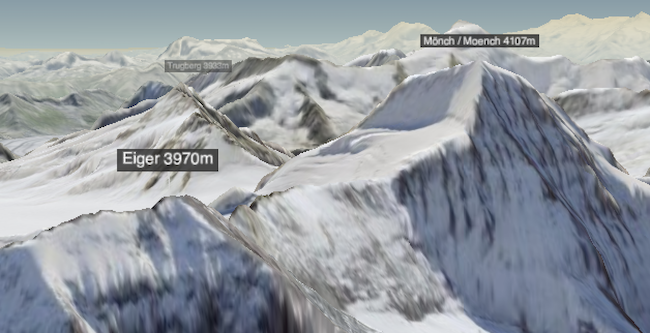 New elevation data for Austria
For Austria there are now more accurate elevation data for the 3D map. Previously these had a resolution of 20-30 meters, now it is 10 meters. In addition, the new elevation model fixes some errors.
Bugfixes
As always, errors that you report to us or that we notice ourselves were fixed. For example, upright photos are now displayed correctly on the map.
---
2021-07-22 - Version 3.7
3D mode & satellite map!
With the inconspicuous 3D button in the map you can now experience your tours in a whole new way. The whole world is available to you in 3D and with satellite / aerial data!
For all of you who do tours in Switzerland: Switzerland shines in high 2m resolution and detailed aerial imagery. We are working on offering other countries in higher quality as well.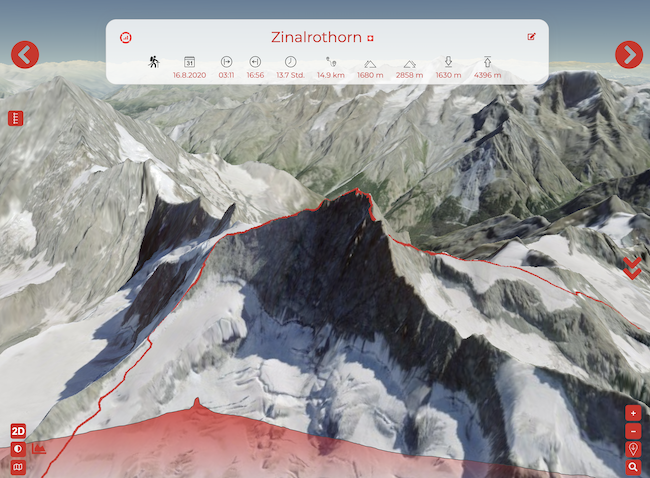 This is just the beginning - we will soon offer you even more possibilities to virtually relive your tour. Stay tuned!
New activity types
We also introduce two new rather general activity types: "water(sports)" and "aviation".
With the aerial activities "paragliding" and "aviation" the route doesn't clamp to the ground in the 3D map but floats in the air.
Bug fixes
As usual we correct bugs with every update. If you find any, please write us!
---
2021-04-12 - Version 3.6
POLAR!
For all Polar device owners: From now on we support direct import of your tracks from Polar Flow!

Unfortunately the interface does not allow to request data retroactively. But from the first connection with AdventureLog all new tours can be imported comfortably.
---
2021-04-05 - Version 3.5
Tour partner requests to everyone
From now on you can send tour partner requests to people who don't have an account on AdventureLog.io yet. They will receive a nice email asking them to create an account. Once they do, they can accept or decline all your requests.
Pretty emails
We now send good looking emails - and hope that the many different email clients display them halfway decent ;-)
Minor improvements
The filters in the tour and location list now only show options that are actually available.
---
2021-03-27 - Version 3.4
Tour partners
You can now (finally) add tour partners - your partners will see the tour in their AdventureLog as if they had logged it themselves. Only you can make changes, and you can revoke the granted permissions at any time.

To use this feature, your tour partners must have an account on AdventureLog.io - a free account is sufficient! Then you can send them a request, which they can accept or reject at the next login.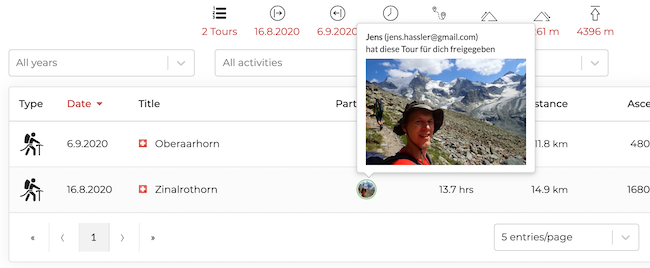 We will continue to build upon this feature and allow cooperative editing in a future release.
But first: Have fun with the new function!
---
2021-03-13 - Version 3.3
Export all data
From now on you can export your tour list and your location list into a nice Excel file to use it for your own evaluations.
In addition, you can download all your data stored on the platform in your profile with one click. You will receive a ZIP file containing the following data for each tour:
An Excel file with the tour data and the coordinates
All uploaded pictures (in reduced resolution)
Your original GPS file (only for PLUS users)
Join us on LinkedIn & Twitter
We are now also represented on LinkedIn and Twitter. If you have an account there, follow us! We will always post interesting information and articles about AdventureLog there.
---
2021-03-06 - Version 3.2
More flexible map style selection

Use the button below to select the base map. These are available worldwide:
AdventureLog b/w
AdventureLog colored

With the upper button you choose an overlay. This one is available worldwide:
AdventureLog slope angle from 25 degrees
In the future we will try to add more good maps, and also enable country specific maps - like from now on with the maps of Switzerland.
New maps for Switzerland
In March 2021, the Swiss Federal Office of Topography (Swisstopo) made many previously fee-based map products available to the general public free of charge.
For tours in Switzerland, AdventureLog now offers the following base maps and overlays for you to choose from.
Additional maps:
Swisstopo national map color
Swisstopo national map b/w
Swisstopo national map winter
Swisstopo aerial photos
Additional overlays:
Swisstopo slope classes (as a supplement to AdventureLog slope classes)
Swisstopo hill shading (with a very accurate elevation model)
Swisstopo hiking trails (the official hiking trails in CH)
Note: The maps are only shown in the selection if Switzerland is currently visible. Printing Swisstopo maps is unfortunately not possible until now.
---
2021-02-27 - Version 3.1
Detailed tour information on overview maps
On the overview map, you no longer get to the detailed view by clicking on the tour. Instead, a small window with the tour statistics is displayed. We have also removed the date and the title of the tour, so that even if there are many tours in one region, as little as possible is covered on the map. The currently selected tour is also displayed slightly lighter or darker in the activity-dependent color - so you can better distinguish the selected tour from the other tours in the area.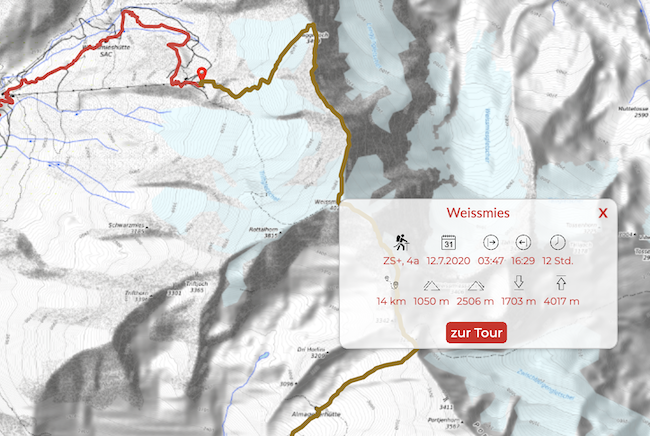 Change route line color per activity
From now on you can change the color of the route line per activity to better distinguish your tours on the overview map. You can find the settings in your profile.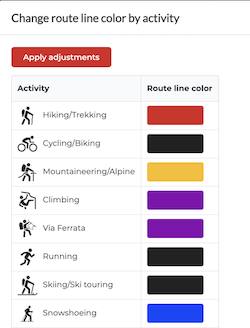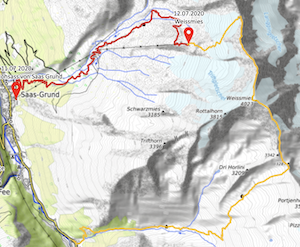 ---
2021-02-07 - Version 3.0
Renewed
Time flies - AdventureLog.io is already entering its third year in April. Technology changes rapidly, so we deliberately took a step back and updated the whole application architecture. Nothing is worse in software development than an outdated product that you can't update. With AdventureLog, all components are now up to date again.
Unfortunately, this does not bring any new features at first, but it creates a stable basis for further development. Stay tuned!
localized dates and times
There is one small new feature: From now on, date and time information will be displayed in your local variant. The decisive factor for this is the language of the browser user interface.
---
2020-11-21 - Version 2.11
Create entries without GPS track
Forgot your GPS device on your tour? Made a city trip for which you would like to have an entry with photos in your tour book?
That's now possible with the new function "Create tour by adding locations". Enter at least one location, add the most important data and photos, and you're done.
Have fun with the new feature!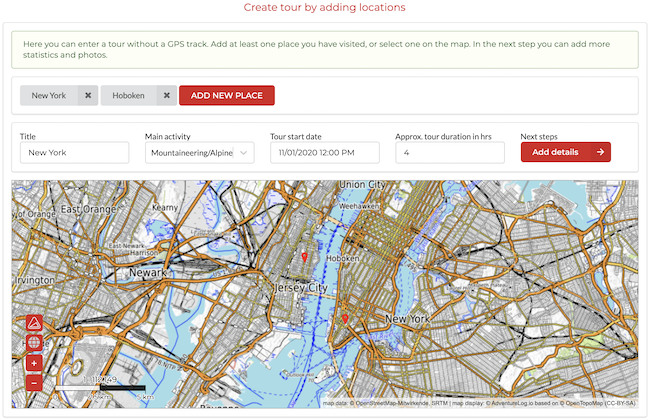 ---
2020-10-13 - Version 2.10
Location search now with context
The location search on the map now shows the region of the results. Move the mouse over it to get more information. The same applies to the flag symbol of the country.
Number of entries in lists
The number of entries shown in the tour and city lists is now adjustable, so that users of larger screens can make better use of the available space.
Delete HR data
If you don't want to have your heart rate data in the tour you can now remove it.
---
2020-10-07 - Version 2.9
Loction search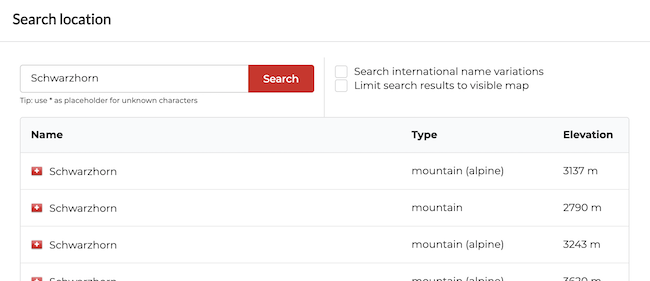 If you are logged in, you can search for locations using the search icon that appears in the lower right corner of the map. A click on a result line will zoom the map to the corresponding location. You can use wildcards in the search and optionally limit the results to the visible map section.
We are working on improving the location search and enriching it with additional information. It will be the basis for a new function (coming soon!) to create tours without GPS track.
You can find more information about the search on the tips page.
Personal settings for the route line
In your personal settings you can now define both the color and the thickness of the route line.
50 photos for PLUS users
We raised the photo upload limit from 25 to 50 exclusively for PLUS users. One more reason to upgrade :-)
---
2020-09-19 - Version 2.8
Heart rate data

When you record heart rate data and you read in a FIT file or import it via Suunto/Garmin, we now read the data it contains and display it in the graph. You can show or hide the HR line by clicking on the corresponding icon. Furthermore, the average heart rate for the tour is calculated and displayed in the statistics.
Please note that only FIT files can contain HR data, GPX files do not support this.
For tours that have already been recorded, we have tried to update the tracks.
Bugfixes
Images are now no longer scaled down infinitely, the altitude of Mont Blanc is now correctly recognized, and when deleting places from the place list, the place types are no longer mixed up.
---
2020-07-21 - Version 2.7
GPX update
We now support more variants of the GPX format. So if an upload has not worked for you yet: try again! And if you have a track that does not work for you: Please send it to us, we will check it out. Thank you.
Exclude tours from statistics
Some users want to record tracks that are not really "activities", e.g. trips by car, train, bus, ... For this purpose you can now set the option "Include this tour in overall statistics?" to "No" in the form under "Statistics". From now on, the tour is no longer included in the statistics in the tour list and the dashboard.
Bugfixes
As always, some errors have been corrected, e.g. an error when auto-rotating upright photos.
---
2012-06-21 - Version 2.6
Countries
For all who undertake tours in different countries: From now on, each tour is assigned a country - and of course the country is automatically recognized based on the coordinates of the starting point. Nevertheless, it can also be changed at will. With the "country" filter in the tour list you can easily filter your tours by country.
---
2020-06-12 - Version 2.5
Your tour stream
Now you can display your tours as a tour stream instead of a simple list, just like you are used to from your photo stream. You will find the corresponding symbol in the title of the tour list.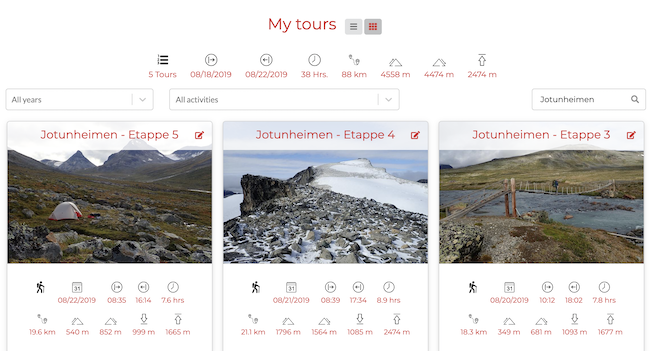 Upload tours without timestamps
Now you can also upload GPX tracks without timestamps that you may have created with a tour planner or downloaded from another site. Please note that certain functions of AdventureLog will not be available with such tracks, e.g. the tour progress or the automatic placement of photos based on time data.
But this is only the preparation for our own tour planning function, which will come later this year. Stay tuned!
---
2020-05-22 - Version 2.4
My places
Up to now, the places you defined for a tour had a niche existence - this is over now.
Now you can list all the places you have visited on your tours in the new section "MY PLACES". Filter, search and sort them, and immediately see which tours are "linked" to them.
So you can quickly find out which tours you have been on at a particular hut or which are the highest mountains you have climbed so far.

Multiple filters
In the tours and places list you can now filter for several entries at the same time for the place types, the activities and the years. For example, you can display all hiking and cycling tours in the last two years.

---
2020-05-17 - Version 2.3
Suunto import
We have fixed a problem with importing tours from Suunto - some users did not see tours from the last 12 months, but instead all tours older than 12 months.
In addition, the Suunto importer now allows you to import tours older than 1 year - just change the date range.
---
2020-05-09 - Version 2.2
New print options
We continue to expand the functions for printing tours. Now you can:
print maps to scale, for example in 1:25000
create portrait prints in addition to landscape format
set the width and color of the route lines
select whether you want to print the total statistics of all tours or only the statistics of the tours visible on the map

Welcome, motorcyclists!
Unfortunately we had forgotten you as a target group - we made up for that. From now on there is the activity "motorcycling". If you have any suggestions how we can make AdventureLog even better for your needs, please write us via the contact form. Thanks a lot!
Select default activity
In your user profile you can now select your "default activity". This will be filled in automatically when you create a new tour.
---
2020-04-11 - Version 2.1
Print overview maps!
From now on we offer you the possibility to print beautiful overview maps of your tours, directly from the (filtered) dashboard.
As a free user you can create DIN A4 prints as PDF files. PLUS users can choose paper formats up to DIN A2 sizes with detailed maps in 300 dpi.
The new function can be found behind the symbol

in the tour overview.
Soon we will extend the print function, so that you can also print single tours. Stay tuned!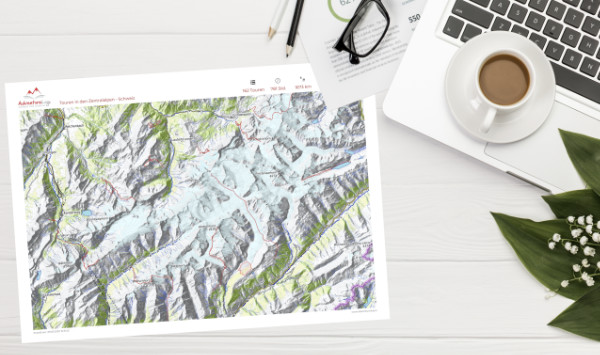 Slope map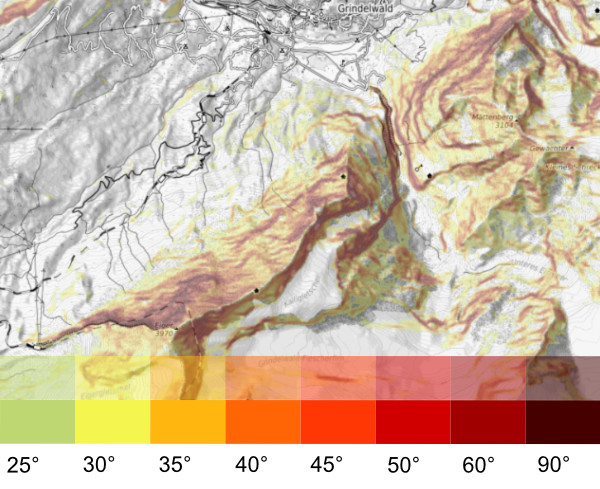 By clicking on the icon

you can activate a map layer which shows you the slope of the terrain.
Slope usually becomes interesting from about 25 degrees. 30 degrees is an important limit especially in winter when it comes to avalanches. Steepness from 45 degrees often requires the mountaineer.
But also if you just want to quickly recognize where there are steep walls in the terrain, this layer will help you. Everything that is red is very steep.
Photos even bigger!
We have now integrated the photos a little better into the map. They are now no longer hidden when scrolling the map and are scaled with the map. The nice "open" effect (desktop) is no longer necessary. Instead, the pictures are now available in a slider, where you can view them much better, bigger, optionally also in full screen mode.
---
2020-02-28 - Version 2.0
New map, now also in color!
We moved to a new server, and among other things we now run our own map server with our own map style.
The new topographic map has been improved in some details. We have integrated a better elevation model and adapted the labels and contour lines.
But the best is: There is now also a coloured map style in subtle tones. You can activate the new map at any time with the corresponding icon in the lower left corner or permanently switch to the colored map in your settings - depending on which style you prefer.
But all this is just preparation for new functions, especially for printing maps and tours. Sty tuned!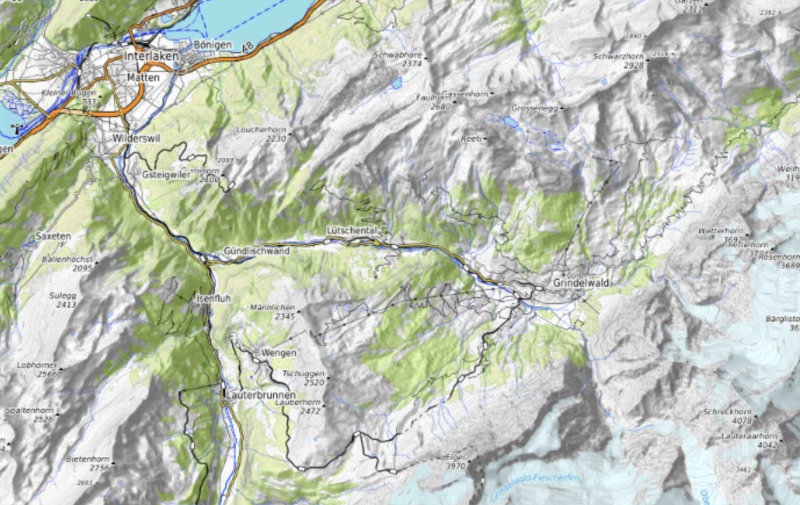 ---
2019-12-29 - Version 1.24
Display statistics in tour list
You want to quickly see how many elevation meters you have already made while climbing?
When filtering and searching for tours, your tour list will be updated as before. Now you can also see the statistics of the corresponding tour data.

Show filtered tours on map
Would you like to see on the map all the hiking tours you have done in 2019?
You want to see all the climbing tours you have done with a particular friend?
With the button Show these tours on the map below the list you can now view all the tours from the current list view on the map.
Minor corrections & improvements
We have corrected some errors, including better error handling for uploading images that are too large - and we have raised the size limit for images to 15 MB.
---
2019-12-01 - Version 1.23
Exclude private images
When publishing your tour, you can now specify which pictures will be excluded from publication. With this you can make a great tour available to the community and at the same time protect the personality rights of your companions.
Corrections
Minor corrections, e.g. in Suunto Importer, snf a better search engine compatibility for the published tours.
---
2019-10-20 - Version 1.22
Publish your adventures!
From now on you can publish your tours - making them available to every visitor of AdventureLog.io.
You can find all published adventures on: https://www.adventurelog.io/en/adventures
You have made a great tour and want as many people as possible to benefit from it?
You like to go into the mountains and want to show what the conditions are like?
You like to make it possible for other people to see new regions of this world?
You simply enjoy writing an exciting tour report and are looking for a way to publish it?
So go ahead: Publish your tours NOW!
Tip: Use the new formatting options, for example to embed pictures in the body text. You can find out how to do this on the Tips-page.
---
2019-10-06 - Version 1.21
Manipulate GPS data
Have you ever recorded a few minutes too much? Forgot to stop when you were already in the car? Did your GPS device record the tour with altitude information that was consistently too high or too low? Were you abroad and now have wrong time data?
All these things are annoying and had to be correct outside AdventureLog.
With the new manipulation functions you can now make these simple changes while editing your tour. You can find the button in the "Statistics" section.
In the future we will extend this area, so that you can also change single points, e.g. to correct glitches. Stay tuned!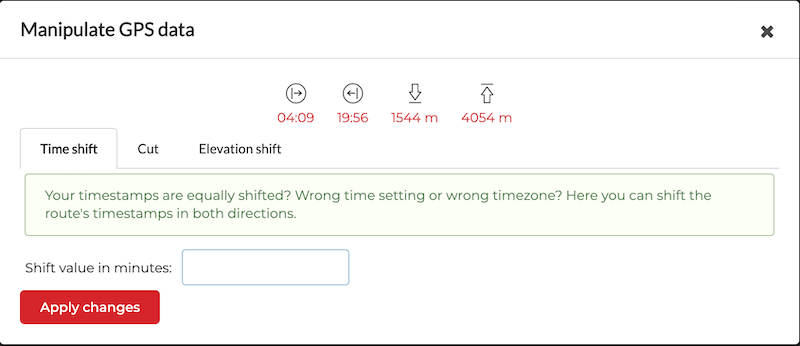 Beautify your tour reports
You can now spice up your tour report with various formatting options. You can even embed uploaded pictures in the text. This is not as comfortable as we would like it to be, but a better editor will come soon. You'll find instructions at the bottom of the Tips-page!
---
2019-09-28 - Version 1.20
Favourite pictures for your shared tours
Until now, you had little control over which images were used when sharing your tour on social networks. The image selection was completely random.
We have now changed this. In the "Share" dialog you can now specify your favourite images. One of them will be is used when a shared tour is displayed anywhere, both for the single tour and for the group, depending on what you share.
The favourite pictures are also used for the presentation of the "tour cards" when you are viewing a tour group.
---
2019-09-23 - Version 1.19
Add YouTube videos!
To make your tour reports even more dynamic, you can now integrate YouTube videos. No matter if you are a free or PLUS user: You can include as many videos as you like, because they don't take any storage space on our platform.
The button for embedding can be found in the tour editing form next to uploading photos.
---
2019-09-13 - Version 1.18
Navigation improvements
When viewing a tour you can now scroll down with an arrow displayed on the right side of the map. This is especially useful on mobile devices. You can also return to the map at any time by clicking the "Back to top" button. At the end of a tour description, below the pictures, you can now also find "Forward" and "Back" buttons.
Download original GPS file
PLUS users can now find a button in the edit view of a route (in "My Tour") to download the original GPS file of the tour.
---
2019-09-07 - Version 1.17
Grouping for multi-day tours!
We have announced it for a long time, now it is here. From now on you can combine any tours, e.g. stages of a multi-day tour, into groups, and these can be viewed in an informative overview. Of course, you can also share the group. You decide. On the Tips-page you will find instructions.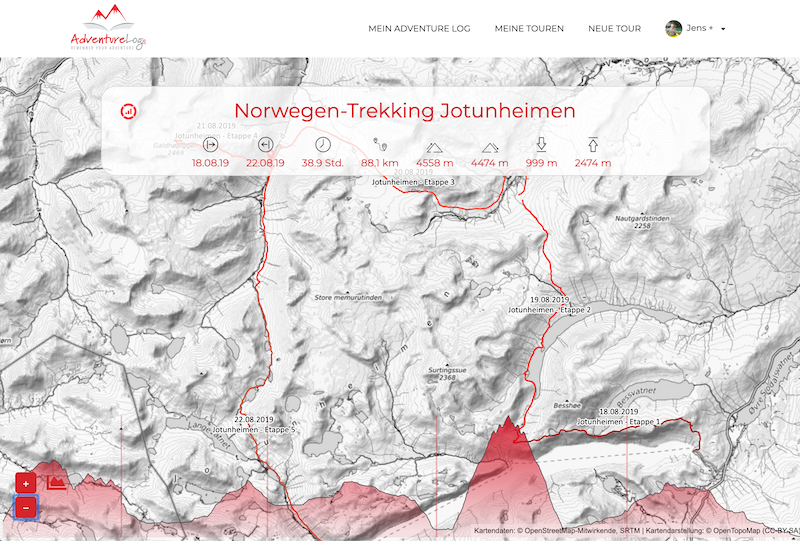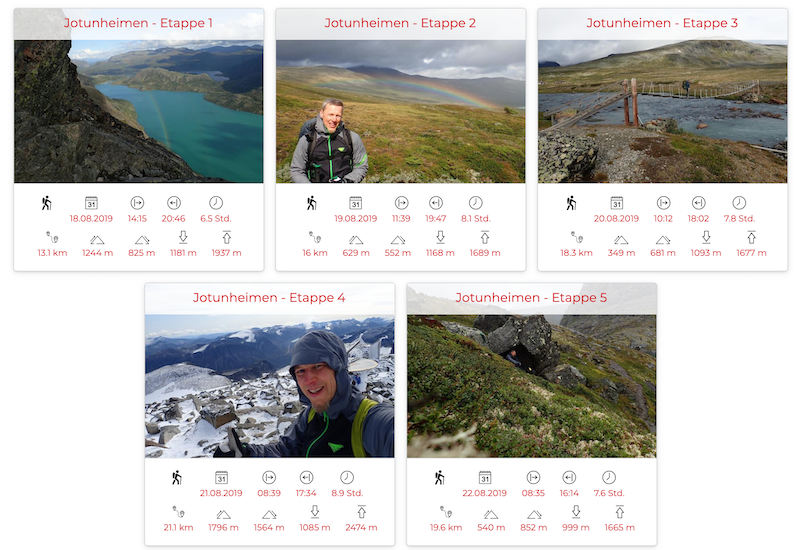 Better "share" links
The link to a shared tour now contains the tour name. That helps you to better identify your shared tours if you send the links to your friends.
"Add tour to own tour book" removed
We have removed the very little used function "Add this tour to my tour book" (on a shared tour). Due to the higher complexity with the tour groups we decided to do this and will soon replace it with something better.
---
2019-08-06 - Version 1.16
Formatting options for your reports
From now on you can use so-called Markdown tags to spice up your tour report with simple formatting. Here you can find a manual. You can for example create headlines, write bold or italic, add links to websites, and much more. We will extend this function and soon write something about it on the tips page.
Map images
It was a bit strange that the images on the map moved with a delay when moving and zooming the map. We have now changed this behaviour so that the images are faded out briefly. Unfortunately, for technical reasons it is currently not possible to solve this even better.
Share Page
We have made the view of a shared tour a bit clearer. Up to now it was unclear to many what the "Add tour" button does. Now we have improved that a bit.
---
2019-07-17 - Version 1.15
Support for portrait photos
So far, for layout reasons, we have limited ourselves to bringing all photos into a uniform format (16:10 landscape). We have now dropped this limit.
From now on you can upload photos in any format, we don't crop them anymore. This gives you more design options for your tour reports. If you have problems with a certain format, please let us know via the contact form. Thanks a lot!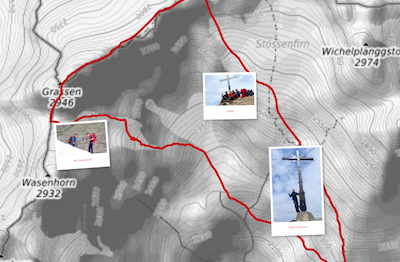 ---
2019-07-10 - Version 1.14
Optimizations for tablets and mobile phones
There is always something to do to support many device categories. A few things have not worked as expected on mobile devices so far, especially moving the map.
This and many other things are corrected now. To move the map on mobile devices, a "handrail" now appears on the right, so you can move the document and not the map.
For tablets, we have developed a special view that makes better use of space. With the button in the upper left corner of the info box you can also hide/show the statistics to get more space.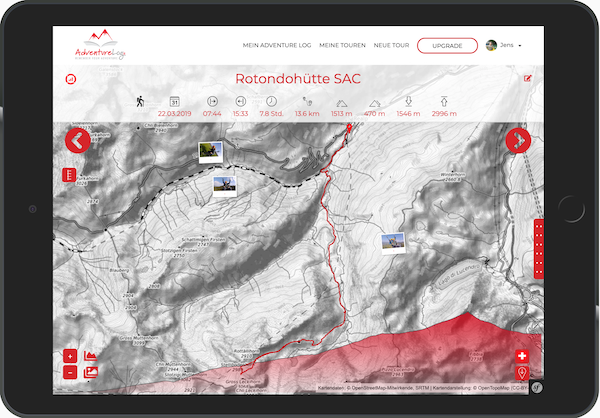 In addition, some inconveniences and errors have been corrected. Of course there is no perfect world. If you notice anything on your device, send us an email!
---
2019-07-01 - Version 1.13
Placing photos by EXIF date
Even if your photos don't have coordinates, you can now automatically arrange them on the map. All you need is a correct "original date" (EXIF date) in your photos. The uploaded photos will then automatically be placed in the correct position on the route.
Download GPS-Track
You can now download tours in GPX format, to use them e.g. on a GPS device or to upload them to other portals. The GPX files produced by AdventureLog contain your locations defined in your timeline as waypoints. Also these tracks do not contain private data and no date/time information. That means you can pass them on without any problems.
Show track on SwissTopo
On map.geo.admin.ch (SwissTopo) you can find the best maps of the world - the Swiss National Maps. Unfortunately we cannot use them directly in AdventureLog due to licensing issues. But no problem: If you make tours in Switzerland, this symbol appears in the lower right corner of the map. One click will take you to Swisstopo and you can view your tour on the detailed map.
Please note: For tours that are not shared, the link is only valid once. This means that if you reload map.geo.admin.ch, your track will disappear. This has to do with data protection. If you want to share a Swisstopo link, you have to share your tour.
---
2019-06-19 - Version 1.12
Import tracks from Garmin and Suunto
You've got a GPS watch from Garmin or Suunto? Perfect! Now you can directly connect to these manufacturers and import your tracks with a single click.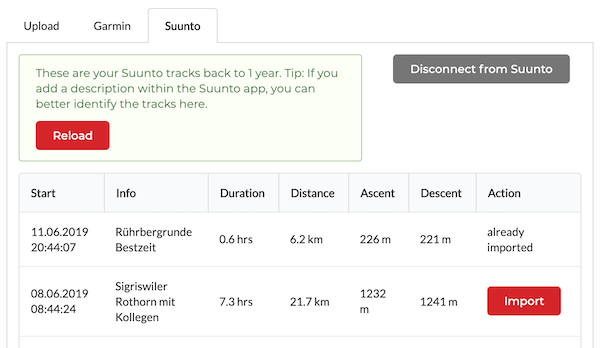 It couldn't be simpler!
---
2019-06-09 - Version 1.11
All images on map?
Got a lot of images cluttering the map? With the new image option "show image on map" you can decide which images should be displayed directly in the map.
Changelog & tips
We added two new pages: The Changelog (you're reading at the moment) and the Tips page, where we try to document the features that you might not figure out for yourself.
---
2019-06-01 - Version 1.10
End of the official test phase. From now on AdventureLog.io costs 15€ per year.
Furthermore, we now support the project OpenTopoMap.org by maintaining our own map server. This improves the reliability of AdventureLog and at the same time helps many other people around the world to incorporate high-quality topographic maps into their apps.
---
2019-05-11 - Version 1.9
Tour timeline
The system now recognizes when you have paused and when you visited certain places such as the summit. You can change and complete this information as you like and look at the timeline the form of an interactive tour timetable.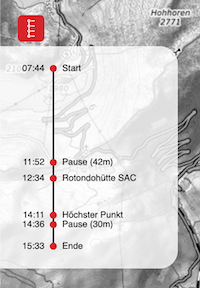 You can find more information about the tour in the Tips & Tricks.
---
2019-04-28 - Version 1.8
Elevation profile
The new elevation profile shows you the elevation of your tour. You can hide/show it and use the cursor highlight a point in the profile and on the map. The profile is therefore also suitable for tracking your route.

---
2019-04-25 - Version 1.7
Metric/imperial system conversion
From now on you can change the distance and altitude information in your profile settings to the imperial system. So you can use feet and miles instead of meters and kilometers.
Fixes
Correction of zoom problems with images
Better support for IGC files
---
2019-04-21 - Version 1.6
The website has been updated with a video and additional screenshots.
---
2019-04-19 - Version 1.5
Original date on uploaded images
When uploading images, the list will now show you the date the image was taken, if there is one available in the image (in the so-called EXIF data).
If a date is found, the image is automatically sorted correctly. This means that you don't have to worry about the sorting of your pictures anymore!
Fixes and small changes
New users now receive a welcome email when logging in
minor fixes
---
2019-04-16 - Version 1.4
Welcome, paragliders!
From now on we support the direct import of IGC files. These are used for all variants of flying, and of course for paragliding, where we added a special category for.
---
2019-04-15 - version 1.3
Image optimization
From now on AdventureLog allows more pictures and the sorting of pictures.
You can also show and hide the pictures on the map with a button to focus on your route.
Fixes
unknown browsers (e.g. mobile) don't get a confusing "Your browser is not supported" message anymore
---
2019-04-13 - Version 1.2
Time zones
We now query your time zone at login so that we can calculate the correct times from your GPS data. GPS tracks usually contain UTC times.
Clickable places
The places that were detected automatically are now linked. You can click on them and and they will be zoomed in on the map.
Share
A shared tour can now be published much more nicely in other services, e.g. on Facebook. A random image from your tour will be used, also the title of the tour and the first characters of the tour's description will be displayed.
---
2019-04-11 - Version 1.1
FIT format
We now support the popular FIT file format, which is standard for Garmin and others.
Website update
The website has been updated with screenshots of the most important areas.
Fixes
Support of images with "broken" EXIF data
Facebook login correction
---
2019-04-01 - Version 1.0
We're online!
After a long development phase we are now "live". We very much hope that you will enjoy AdventureLog the same as we do!